Leading Hardwood, Softwood & Apitong Trailer Decking supplier in Los Angeles since 1910
"We sell a good product at a good price." is the motto of the Bohnhoff crew.  On any given day you will find company trucks coming and going loaded with lumber, forklifts performing a balancing act with stacks of lumber and good conversation.  Bohnhoff is known for its friendly staff and knowledgeable sales people.  

Bohnhoff Lumber Co., a true American success story being carried on for another generation to serve the continuing story and evolution of the people of Los Angeles.
To learn more about Bohnhoff Lumber Co.'s wood products and services available in our Los Angeles lumber yard, give us a call! We will be glad to hear from you!
Call us
"We sell a good product at a good price."
The Bohnhoff motto has always been, "We sell a good product at a good price." We stand by that motto.
Bohnhoff Lumber Co.
specializes in supplying the
highest quality hardwood
,
softwood
,
trailer decking
and exotic wood species of
lumber
in our Los Angeles lumber yard at a good price. We take pride in being one of the last remaining
lumber yards
to allow customers to "hand select" their own lumber.
Bohnhoff is your single-destination source for all your woodworking needs in Los Angeles. Whether you are looking for
plywood
,
slabs and tops
,
trucking lumber and hardware
, or
finishes and glue
, or wood building materials, we have what you need in our
Los Angeles lumber yard
. . In addition, we offer
wood milling services
, and
delivery
to your location anywhere in
California
.
Let our friendly staff and knowledgeable salespeople assist you with everything
lumber in Los Angeles
. Whether you are a DIYer, an accomplished woodworker, a hardware supply, or a builder, we will always go out of our way so you can get what you need.
Our Lumber and other Wood Products Available in our Lumber Yard in Los Angeles
WHERE TO BUY WOOD FOR WOODWORKING?
Bohnhoff Lumber Co. is dedicated to being the best source of supplies for your woodworking projects. At Bohnhoff Lumber Co., we understand the importance of hand-selecting the perfect boards that meet your unique specifications. Our lumber yard is a haven for passionate woodworkers, providing a wide variety of high-quality woods to choose from. Whether you're searching for hardwoods, softwoods, or specialty lumber, our knowledgeable staff is ready to assist you in finding the ideal materials. So if you are in Southern California and searching for "wood near me," Step into our lumber yard and embark on a journey to discover the perfect boards to bring your woodworking creations to life.
To ensure that your desired wood is available in our Los Angeles lumber yard, please give us a call!
Bohnhoff Lumber Company - The Best Los Angeles Lumber Yard in the Media
Bohnhoff Lumber Company has built a sturdy reputation as one of the most dependable timber suppliers in Los Angeles and throughout Southern California for over a century.
As we have continuously served the needs of Los Angeles residents and businesses, we have also gained recognition from various media organizations, charities, and other businesses because of our commitment to delivering the highest quality products and services. Read on to find out what other businesses and institutions say about us on our media page.
Bohnhoff in the Media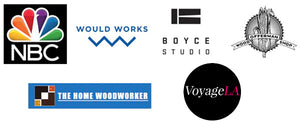 COMMUNITY
Bohnhoff Lumber Co. has been working to support local organizations with material donations.
Click Here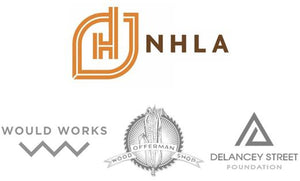 Bohnhoff Thanks Would Works
Here at Would Works, we are so grateful for the monthly donations of wood and finish from Bohnhoff Lumber.  Because of Bohnhoff's generosity and community spirit, we are able to provide people living in poverty or homelessness with the opportunity to work with their hands, learn a skill and change their lives.  Thank you Bohnhoff Lumber!"
DEREK KLAAS:
Best Lumber yard in town. I love that it's been around for so long. I come from a family hardware store that's been around since the 50's so I really appreciate businesses such as this. The prices are great and the quality of wood is great. They always have the sizes I need (10/4, 5/4, etc) and they have it rough. The service is superior just like the grade of walnut I buy from them.
Where to Buy Lumber in Los Angeles and Southern California?
For the widest selection of the best lumber and wood Los Angeles has to offer, Bohnhoff is one of the best local lumber suppliers with the best prices on lumber in Los Angeles. So, if you are within the vicinity, just search for the wood places near me, and you will find us just off Interstate 5 near Boyle Heights in the heart of Los Angeles. We are one of the few remaining California lumber yards that allow handpicking your favorite piece. We will provide wood products and hardwood delivery to any destination in Southern California.
Our Customer's Wood Work
Whether you are a DIY woodworker, a seasoned furniture maker, a home builder, or a hardware supplier, we are proud to serve you and supply the best quality lumber, such as hardwood and other wood products. To show our appreciation for their patronage and their craftsmanship, we are showcasing our customer's work on this page. 
More Details
SORTING LUMBER
This can be done one of two ways:
APPOINTMENT: We prefer you to call previous to your arrival to discuss pricing, quantity, and availability of material. From there we can make an appointment for Monday-Friday. Morning appointment times are 8, 9, 10, 11am CLOSED FOR LUNCH 11:30-12PM DAILY WITH LIMITED STAFF.
Afternoon appointment times are 12, 1, 2pm. We will work to have your material out before your arrival to speed up the process. NOTE: Please try and bring a tape measure, gloves, and closed toed shoes for your appointment.

NON APPONTMENT: If you walk into the yard no problem, we will help you. Please understand there will be a wait time before we are able to help you. It takes time to move units of material around safely to get the items you need. We will do our best to get your items as fast and as safely as possible.
NOTE: Please try and bring a tape measure, gloves, and closed toed shoes when you walk in.
Thank you for understanding, Bohnhoff Lumber Co.
Bohnhoff Lumber Co.
OFFICE HOURS:
Mon - Fri
7:30 am - 11:30 am
12:00 pm - 4:00 pm
YARD HOURS:
Mon - Fri, 8:30 am - 3:00 pm
SATURDAY HOURS:
Currently postponed - please check back.
3411 E. 26th. St.
Los Angeles, CA 90058
WARNING
This product can expose you to chemicals including wood dust which are known to the State of California to cause cancer, and methanol, which are known to the State of California to cause birth defects or other reproductive harm. Drilling, sawing, sanding or machining wood product can expose you to wood dust. Avoid inhaling wood dust or use a dust mask or other safeguards for personal protection. For more information, go to www.p65warnings.ca.gov and www.P65Warnings.ca.gov/wood.
ADVERTENCIA
Este producto puede exponer al usuario a químicas incluyendo el polvo generado por la madera. El estado de California reconoce que dichos químicos pueden casar cáncer, y metanol, que el estado de California reconoce que puede causar defectos de nacimiento y otros daños al sistema reproductivo. Perforar, cortar, lijar o aserrar productos de madera lo pueden exponer al polvo de madera. Evite inhalar ese polvo o use una máscara contra el polvo u otro dispositivo de protección personal. Para mayor información, visite www.p65warnings.ca.gov y www.p65warnings.ca.gov/wood.